Safes and Vaults in Edmonton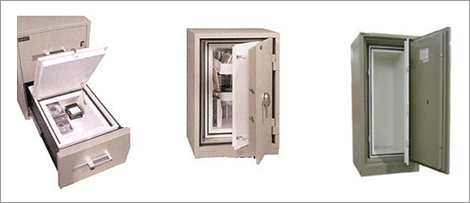 Protect your Valuables
White paper records can withstand temperatures up to 350° F (177° C), and computer media will be damaged beyond use by temperatures above 125° F (52° C) and humidity of above 80%. Microfiche, microfilm, and all computer media require the added protection of a Gardex Media Safe. Visit our Edmonton showroom, and our certified locksmiths would love to show you all of the safes we have in stock.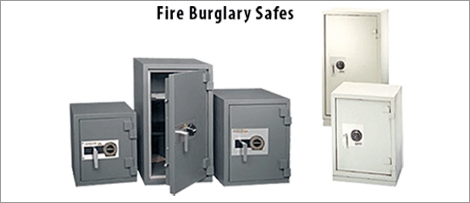 Fire and Burglary Safes
Purchasing a safe from Master Locksmith in Edmonton will help to protect your valuables in your home from burglary and fire and flood. A safe sold by Master Locksmith will give you peace of mind. You can purchase various sizes depending on your safe storage requirements.
U.L. Listed Class 177ºC (350°F) one-hour fire label and U.L. residential security container burglary label
Door thickness 10.2 cm (4″) with 1.2 cm (1/2″) steel plate up front
Door frame 1.2 cm (1/2″) steel plate to prevent opening with crowbar
Body 5.1 cm (2″) thick, reinforced with 1/4″ steel plate
20.3 cm x 20.3 cm (8″ x 8″) hadox steel plate 1 cm thick (3/8″) protects lock, tongue, handle cam from drilling
4 chrome locking bolts, side, top and bottom
2 fixed chrome bolts hinge side
U.L. listed spy-proof combination lock with relocker
Spring-loaded auxiliary relock device
Heavy duty adjustable steel hinges for easy and smooth door operation
Heavy duty handle and chrome trim
Boltwork and handle lock automatically when door is closed
Anchor bolt and boltdown kit
Electronic lock available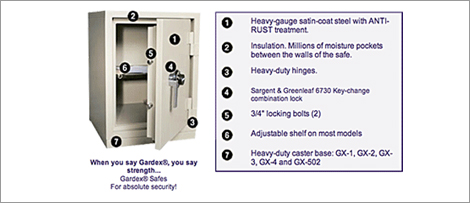 Gardex® Safes
Gardex Safes offer the most secure and reassuring protection for all your documents. For many years, Gardex safes and filing cabinets have been keeping millions of contracts, stocks, receivables and other irreplaceable documents from going up in smoke. Through every kind of fire, explosion, and high fall, Gardex products have proven their worth.
Better than an insurance policy—which can never replace valuable records—Gardex safes and filing cabinets offer the guarantee of complete security, for absolute peace of mind.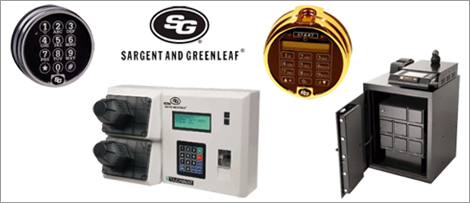 Sargent and Greenleaf®
Since 1857, Sargent and Greenleaf's innovations have resulted in the industry's largest selection of mechanical combination locks, electronic safe locks, vault locks, time locks and specialty safe-locking solutions. We listen to and understand our customers' needs and respond with the most pioneering, quality-driven security products. Master Locksmiths is proud to carry Sargent safes and Greenleaf safes. Visit our Edmonton showroom today to see a wide selection of safes on display. One of our locksmiths would be happy to go through all of the benefits of a safe for your home or office.