Good News for Edmonton Car Owners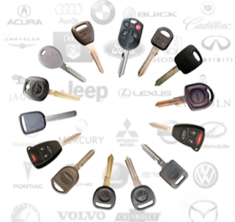 When you bought your car, your dealer may have told you that only they could replace your car keys if lost. That information may also be in the owner's manual of your car. While that is true for a very small percentage of cars on the road today, for most vehicles, complete lock, key and ignition service can be done in our shop garage or in the field.
Automotive Locksmiths at Your Service
We are licensed locksmiths and are better qualified to service, repair or replace the locks, keys and ignitions in your vehicle than a general auto repair shop or car dealership. Many of the local auto shops and dealerships in our area use our automotive service.
Why use MASTER LOCKSMITHS for auto key works?
We sell and install a range of security products such as:
We can duplicate your existing automotive keys for a spare.
We can make new keys in the event that you lost all your keys.
We can PROGRAM TRANSPONDER keys at our shop or in the field.
We can repair or replace all your door and trunk locks including ignitions.
We can rekey all your door and trunk locks including the ignition in the event you feel someone has a set of your keys.
NO NEED TO TOW YOUR VEHICLE TO A DEALERSHIP TO GET NEW KEYS
WE HAVE A MOBILE AUTOMOTIVE SERVICE AND CAN MEET ALL YOUR NEEDS RIGHT AT YOUR VEHICLE